In a previous post, I shared some great online resources for learning more about the history of Korean food. In this post, I will share some great offline resources to learn more as well. There are some great books in English that will help you learn more about the spiritual, historical, and cultural context of Korean food. Here are a few of them: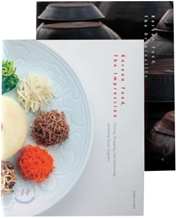 1)
Korean Food, The Originality, The Impression
is a set of two coffee table books individually titled
"Korean Food, The Originality"
and
"Korean Food, The Impression"
. It was written by the food research team at the Dong-A Ilbo, a major Korean daily. This set is quite pricy at $68.84 at
SeoulSelection.com
or W67,500 ($64.01) at
Yes24.com
(a Korean site). You can click on the "Yes24" link to get a preview of the book. There is a link on the left column of the book's page called "미리보기" (preview) that will give you a glimpse into the book's contents. "The Impression" focuses on the style and preparation of Korean food whereas "The Originality" discusses the philosophy behind Korean food, going into greater depth about the spiritual and cultural meanings as well as the historical context of the food presented. The emphasis is on the value of Korean food as a purveyor of culture as well as the meaning behind the preparation and presentation of Korean food. These books offer a glossy introduction to Korean food with beautiful, colorful photographs and a clean layout. There is also a special edition of this set modified for the ipad. It is much cheaper at $12.99 at the
itunes store
. However, it does not contain the full content found in the paper edition.
Here is a video showing a preview:
2)
Korean Cuisine: A Cultural Journey
is a great primer about the aesthetics, history, and spiritual and cultural meaning of Korean food. It focuses on much of the same content as "Korean Food, The Originality, The Impression", but with a greater emphasis on food as a reflection of the Korean psyche. This book is available at
Seoul Selection
for $27.05.
Both books look very promising based on reviews and a first look, so I suggest that you check them out.
Posted by tastingkorea