Nalchi Ahl (날치 알) is roe that comes from sweetfish.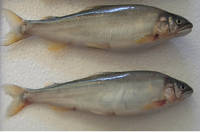 Masago is the Japanese name for roe that comes from capelin.
Here are some recipes using nalchi ahl:
(Hwe - raw fish)
This recipe adds a twist to the original hwe dup bap by adding a fried egg as well as using Sprite in the hwe sauce, but otherwise, it is quite authentic.






Posted by tastingkorea